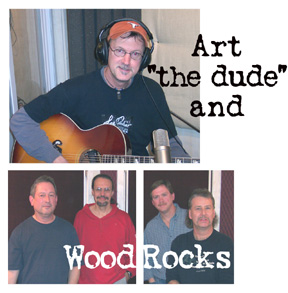 l-r: Gary Isbell, Bob Greene, John Miller & Danny Erkman

Around the turn of the century, Art "the dude" (songwriter/singer) hooked up with Gary Isbell (bassist) and began to play around Evansville under the moniker "Art 'the dude'". The band continued to build and before too long, WoodRocks was born.
WoodRocks:
Rock, country, folk, blues, you name it, they create it. WoodRocks has two songs on the CD. Track 4, "Happy to be here" is a Heartland Rocker that deals with going back home when you have been away for a while. The follow up, Track 9, "That ain't bad, but it ain't country" is a nod and a wink ;) to the "new country" sound.
Gary (bassist) is just as comfortable playing complex jazz riffs on his Fender bass as he is holding down the bottom of rock songs. Bob Greene (piano and organ), is an Evansville staple on the live music scene. He adds the finessing touches to these tracks. John Miller, lead and rhythm guitar is like a race horse bursting out of the gate: power, speed and agility. One of the area's most sough-after drummers because of his incredible timing (you could set your clock to this guy), Danny Erkman, is in a half-dozen bands at any given time. Art "the dude," the band's songwriter and vocalist, also plays harps and acoustic guitar. He has jammed on the acoustic stage at the Country Music Festival in Nashville and was part of an opening act for Travis Tritt at Mesker Ampitheatre. Check out at www.artthedude.com